<!No material may be reproduced without permission of Carey Federer and the original owner!>
From the Portrait and Biographical Record of Sheboygan County, Wis., 1898:
Henry Christopher Laack, Page 467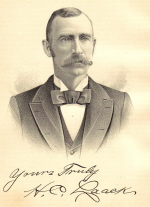 Click on picture to enlarge
HENRY CHRISTOPHER LAACK, of the city of Plymouth, is one of the leading business men of Sheboygan County, and a representative of a well-know pioneer family. His father, August Ferdinand Laack, was born at Zebien, Prussia, Germany, February 8, 1818. He grew to manhood in his native country, and in 1847, at the age of twenty-nine years, embarked for the United States. On his arrival he came direct to Sheboygan County and purchased forty acres of Government land in the town of Greenbush. The purchase of that small tract of land consumed all the money that he possessed. He immediately began the improving of the land, and as by industry and economy he secured more means, he added to his first purchase, while by hard work and tireless industry he converted this wild land into a valuable and productive farm. A few years later, he disposed of his farm and bought another in the town of Plymouth, but five years after he sold his second farm and removed to the city of Plymouth, where he built a hotel near the present City Roller-mill. He operated the hotel, which was a noted hostelry in its day, for about five years, and then returned to a farm in Plymouth Township, and re-engaged in agricultural pursuits, for which occupation he had a great love, amounting almost to a fascination. After operating that farm some four years, he sold it, and established, in 1866, the hardware business for his son in Plymouth. Later he removed to a farm in the town of Greenbush, where he remained a few years, when he again returned to Plymouth. In 1882, he purchased the interest of H. C. Imig in the Plymouth Marble Works, with which he was connected for several years. In fact, he financially backed both the hardware and the marble business, though his son had charge of the former, and his son-in-law of the latter. One great ambition of Mr. Laack's life was to see his children well established in a good business, and to this end he spared neither effort nor means.
On the 15th of December, 1848, Mr. Laack, Sr., and Miss Dorothea Bade were united in marriage. Mrs. Laack was born in Hanover, Germany, February 14, 1828, and came to America the same year as did her husband. Unto this worthy couple five children were born. August died at the age of ten years; Anna died when three years old; Henry Christopher is the next in order of birth; Matilda is the wife of Henry C. Nickel, of Plymouth; and Ida wedded Dr. Frederick Nause.
Having lived in Sheboygan County for about forty years, during which time he became well and favorably known, Mr. Laack was called to his final rest on Tuesday morning, July 26, 1887, of disease of the heart, after an illness of nearly four months. The wife and mother survives her husband, and now resides at the home of her son, H. C. Laack, in Plymouth.
August Ferdinand Laack was a man whose integrity was never questioned, and his ample fortune was acquired by honest industry. As a citizen he was esteemed and respected. Personally, he was modest and unobtrusive, as well in later years, when he had acquired a competence, as when, in earlier life, he possessed but little of the material things of this world. he was endowed by nature with a strong physical constitution, but undoubtedly his death, which occurred in his seventieth year, was somewhat hastened by the privations and rugged experiences incident to his pioneer life.
Henry Christopher Laack was born in the town of Greenbush, February 17, 1850. He was but a year and a-half old when his father sold his farm and removed to the town of Plymouth. he attended the schools of Plymouth, both German and English, and at the age of fourteen his father took him to Chicago and placed him in a position to learn the tinner's trade. After an apprenticeship of two years he returned. His father then established a hardware business and placed H. C. virtually in charge, though the latter was still but a boy, in his seventeenth year. The business was of course conducted in the father's name while his son was a minor, but on the latter attaining to the age of twenty-one years, it was transferred to him, and he has ever since conducted it. The business career of H. C. Laack has been attended with marked success. There is not doubt that the example and thorough training received from his father, whose memory he holds in the highest respect and esteem, have been important elements in his successful career as a business man. About 1880, Mr. Laack extended his business by adding a dry-goods and grocery department. he now virtually has two stores, as the large rooms in which his well-assorted stock is kept connect only in the rear, at the cashier's desk. It is not flattery to say that Mr. Laack has the best-arranged hardware establishment in the county, and also one of the neatest stores to be found anywhere in this section. By fair dealing and courteous treatment of his customers, he has worked up an extensive trade and gained the confidence of the people, which is far better than bank stock.
Mr. Laack has invested large sums of money in building up the city of Plymouth. He is the builder of the Hotel Laack, and of the two business blocks bearing his name, and of his beautiful residence, which is among the finest in Sheboygan County. Besides, he has erected many other residences, thus adding to the growth and beauty of the place, for he is a gentleman who spares neither labor nor money to do well what he undertakes.
In politics, Mr. Laack is a Republican, though he has never sought official position, always having had extensive business interests, to which he has devoted his entire time and attention, thereby achieving a marked success.
On May 17, 1880, our subject was married to Miss Mary C. Wolff, a daughter of Hon. Julius Wolff, of the town of Rhine, of whom a biography may be found elsewhere in this work. Mrs. Laack was born in the town of Rhine, may 30, 1854. She is an educated and accomplished lady, who was for some time a student in the Wisconsin State Normal School at White Water, and at a parochial school in Milwaukee. Before her marriage she was a successful educator. Mr. and Mrs. Laack have three children, two daughters and a son. Ida, the eldest, was born November 1, 1881; Paula was born October 29, 1882; and Julius August, named for his paternal and maternal grandfathers, was born June 20, 1885. They lost a daughter, Pauline, a twin sister of Paula, who died in infancy.
Mr. and Mrs. Laack are members of the Congregational Church. Socially, he belongs to Plymouth Union Lodge No. 71, I. O. O. F., of which he is Secretary. He also affiliates with the German Farmers' Verein. Wide-awake and enterprising, Mr. Laack always takes a lively interest in whatever promises to be of public benefit.