<!No material may be reproduced without permission of Carey Federer and the original owner!>
From the Portrait and Biographical Record of Sheboygan County, Wis., 1898:
Melvin Pierce, Page 393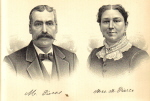 Click on picture to enlarge
MELVIN PIERCE, one of the prominent and representative citizens of Lyndon Township, is a native of Jefferson County, N. Y. He was born March 10, 1835, and is a son of James and Elizabeth (Bess) Pierce. The father was born in Somersetshire, England, in 1791, and was a weaver by trade. With his family he crossed the broad Atlantic to America about 1829, making the voyage in a sailing-vessel, which, after nine weeks spent upon the briny deep, dropped anchor in the harbor of New York. He made a settlement in Jefferson County, N. Y., and there continued to reside until coming to Wisconsin, in 1848. He purchased eighty acres of raw land in this county, and in the pioneer log cabin began life on the frontier. The family experienced the usual hardships and privations of pioneer life, but as the years passed their labors brought to them the comforts of civilization. In politics, Mr. Pierce was a Republican, and he and his wife were highly respected citizens. His death occurred in 1873.
In the family were eight sons and three daughters, and the following are yet living: James, a retired farmer of Lima Township; Henry, an agriculturist of Lima Township; Robert, a farmer of Fife Lake, Mich.; John, a farmer of Lima Township; Ellen, wife of Robinson Ellsworth, of Waupaca, Wis.; Melvin, of this sketch; and George, a milk-dealer of Fond du Lac.
Mr. Pierce whose name heads this record was a lad of thirteen when he came to Sheboygan County, and here he has lived an upright, honorable life, which has won for him high regard. For forty-five years he has witnessed the growth and development of the county, and has ever borne his part in the work of public advancement and improvement. He remained with his parents until he had attained his majority, and afterward cared for them in their last days. His mother, who was born in 1798, departed this life on the old homestead, April 25, 1887.
As a companion on life's journey, Mr. Pierce chose Miss Mahala Daharsh. She was born in New York, August 24, 1839, and is a daughter of Cornelius and Ann (Rothler) Daharsh. The father was born in the Empire State, January 27, 1811, and died in 1874. he was a ship-builder by trade, but after coming West followed farming. The Methodist Church found in him a faithful member, and the Republican party a stalwart supporter. His wife, who was born in the Empire State in 1817, and was a consistent member of the Methodist Church, died in 1889. Mrs. Pierce was a maiden of seven summers when she came to the West. The marriage of our subject and his wife was celebrated October 29, 1874, and has been blessed with one child, Cassius, a bright student, who is now attending the Hingham High School.
Since casting his first Presidential vote for Abraham Lincoln, Mr. Pierce has upheld the banner of Republicanism, but has never sought office, preferring to devote his entire time and attention to his business interests. His farm comprises one hundred and thirty-two acres of arable and valuable land, three miles from Waldo, and the well-tilled fields and many improvements upon the place, including the commodious residence and good outbuildings, stand as monuments to his thrift and enterprise. His wife is a great lover of flowers, and the home and grounds are adorned with many beautiful plants. Mr. and Mrs. Pierce possess many excellencies of character and hold an enviable position in social circles.