<!No material may be reproduced without permission of Carey Federer and the original owner!>
From the Portrait and Biographical Record of Sheboygan County, Wis., 1898:
Mrs. Matthias Sprangers, Page 591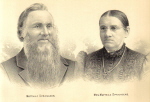 Click on picture to enlarge
MRS. MATTHIAS SPRANGERS, widow of Matthias Sprangers, is one of the pioneers who are well known to the people of Holland Township. She was born in the city of Arnhem, Guelderland, Holland, September 3, 1831, and is the only surviving member of her father's family, which consisted of two sons and two daughters. Dan Bacot, who was born April 15, 1830, and died May 28, 1893, was for many years a resident of this county. Berdiena is Mrs. Sprangers, who name heads this sketch; Adrian, born May 1, 1829, was a resident of Pine Lake, Mich., where his death occurred November 10, 1884; Maria, born April 23, 1839, became the wife of Fred Hensheller, of Milwaukee, and died October 28, 1892. The father of Mrs. Sprangers, Henry Bacot, was a native of Delft, South Holland, born November 1, 1806, and died in his native land June 14, 1842. Her mother was born September 14, 1810, in Arnhem. After the death of her husband Mrs. Bacot wedded Peter Lizer, who was a native of Heussen, Guelderland, born October 12, 1822. He died in Sheboygan in May, 1878.
On the 10th of September, 1846, Mrs. Sprangers accompanied her family to America. It required fifty-five days to make the voyage from Amsterdam to New York, coming on a three-mast sailing-vessel. They made the trip westward by the Hudson River to Albany, thence to Buffalo by rail, where they took a steamer destined for Milwaukee. From the last-named city, Mr. Lizer walked to Sheboygan Falls, in company with a Mr. Van Dune, and each pre-empted a quarter-section of Government land, which was located on section 3, Holland Township. On that Mr. Lizer built his log cabin home and began life in the New World in the true pioneer style. Eighty acres of Mr. Van Dune's original farm are now owned by Mrs. Sprangers. This lady has passed through all the experiences common to the pioneers. On the 30th of May, 1848, she became the wife of Matthias Sprangers, a native of Lage Zwaluwe, North Brabant, Holland, born May 11, 1822. Mr. Sprangers was a twin brother of William Sprangers, a resident of this county. On his birthday in 1847, the former sailed from his native land to the United States, being fifty-five days on the ocean. On the 5th of August of that year, he arrived in Holland Township, where he purchased one hundred and sixty acres of land on section 6. Mr. Sprangers took a prominent part in the early development of Holland Township. A Republican in politics, he was called upon by his townsmen to fill a number of official positions. HE was a member of the Town Board, and also of the County Board of Supervisors for many years. He was the originator of the Town Holland Fire Insurance Company, of which he served as President until his death. On the 9th of August, 1884, he passed from among the living, leaving a name above reproach and a character worthy of emulation. His remains were laid to rest in St. George's Cemetery in Wilson Township.
Unto Mr. and Mrs. Sprangers was born a family of thirteen children. Huberdina, born August 9, 1849, is the wife of Henry Benefelt, of Milwaukee; three daughters and a son died in infancy; Henrietta, born August 24, 1857, became the wife of James Lambs, a farmer of the town of Holland; Matthias, born March 20, 1859, is also a farmer of that town; Peter, born March 11, 1862, is a farmer and cheese-maker on the old homestead; William, born December 19, 1864, died April 20, 1882; Catherine, born August 20, 1867, died December 7, 1870; Berdiena, born September 10, 1869, died December 15, 1870; Walter, born December 23, 1871, is a telegraph operator stationed at Elmhurst, Wis.; John, born September 19, 1873, is a student at St. John's University, at Collegeville, Minn. He is a young man of extraordinary ability, as is shown by the fact that in June 1893, he won the gold medal for good conduct and scholarship given by the university in which he is a student.
Having resided on the farm until 1883, Mrs. Sprangers removed to Oostburg, where she has a beautiful home. She is an active member in St. George's Catholic Church, as was also her esteemed husband. Mrs. Sprangers is one of the few remaining pioneers of Holland Township, where she has made her home for over forty-six years.