<!No material may be reproduced without permission of Carey Federer and the original owner!>
From the Portrait and Biographical Record of Sheboygan County, Wis., 1898:
Conrad Frederick Arpke, Page 225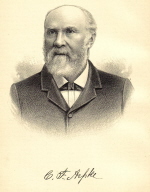 Click on picture to enlarge
CONRAD FREDERICK ARPKE is one of the pioneer settlers of Herman Township, and founded the village of Franklin. He is a native of Eichholz, Lippe-Detmold, Germany, born May 9, 1831, his parents being Adolph and Mary (Ridder) Arpke, who were also natives of Lippe-Detmold. The father was a carpenter by trade, and died in his native land in 1843. Some four years later, the mother with her five children set sail for the United States in the good ship "Agnes," forming one of the thirteen families which came from Lippe and settled in Herman Township. Upon their arrival here they located upon a farm, where the mother died in 1875. Her daughter Mary became the wife of Simon Steffen, who is a farmer. She died a few years after <!No material may be reproduced without permission of Carey Federer and the original owner!>her marriage. Simon is engaged in carrying on the old homestead in Herman Township. Conradina is the widow of Simon Luhmann, and lives in Franklin. Adolph is engaged in farming near Harbine, Neb.

Our subject received a good common school education in his mother tongue, and acquired a good knowledge of English soon after coming to Wisconsin. He dutifully assisted his mother in carrying on the farm, and remained with her until eighteen years of age. He then went to Manitowoc, where for four years he was employed in a sawmill, becoming master of the business. In 1853, at the request of his neighbors, he decided to put up a sawmill in Franklin. He did not have sufficient means, but they helped him build the dam and erect the building, taking their pay in work. Thus he began operations on a very small scale. No belts were used in those days, but cog-wheels and wooden shafts answered the purpose, and by hard work three thousand feet of lumber could be sawed in a day. On the expiration of fifteen years of steady employment, he replaced the old system and mill by his present one, which is capable of sawing ten thousand feet of lumber per day. Since 1853 the mill has been in almost constant operation. In 1856, in company with Henry Dickhoff, he erected a water powered gristmill, the firm being known as Dickhoff & Arpke. At the end of a year John Schulenberg was admitted to partnership, but some years later our subject became sole proprietor. From time to time he made additions, until he now has one of the best equipped mills in the county. In 1889 he put in a complete roller process, increasing the capacity of the mill to one hundred and thirty barrels per day. He carries on his farm of fifty acres, though he gives but little attention to agriculture. About 1856, he laid out the village of Franklin, which is quite an enterprising little town.

On the 8th of August, 1855, in Herman Township, occurred the marriage of Mr. Arpke and Sophia, daughter of Adolph and Catherine (Rosenbaum) Uphof. They were one of the families who came with the little colony from Lippe and located in the Herman Township. Our subject and wife have eight children. Mary is the wife of F. W. Reineking, a farmer in the same township; Fred John, the next in order of birth, married Mary Humke, and runs his father's mill; Jerome Clarence, a graduate of the State University, is in the lumber business; Otto Lawrence married Clara Lienkaemper, and does business for his father; William Arthur is a minister of the Reformed Church and is located in Chilton, Wis.; Emilie and Carl Adolph are at home; and Richard is a student at the Mission House. All of the family are members of the Reformed Church.

A Republican in politics, Mr. Arpke has served as a member of the County Board for two terms, and has been Supervisor for one term. He has been identified with the Mission House School, which has done much to educate the young men of the State, is a member of the Board of Trustees, and has been Treasurer for about eight years. He is public-spirited, giving liberally to all worthy enterprises, and has been a prominent factor in the up building of the township. In business he has been very successful, and by hard work and good management has become one of the wealthy men of the community. He has been fair and honorable in his business dealings, and as the result has won the confidence of all. He has made his home in the county for forty-six years.