<!No material may be reproduced without permission of Carey Federer and the original owner!>
From the Portrait and Biographical Record of Sheboygan County, Wis., 1898:
Hon. George H. Brickner, Page 521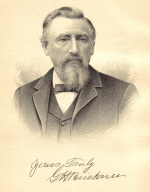 Click on picture to enlarge
HON. GEORGE H. BRICKNER, Member of Congress from the Fifth Wisconsin District, and President of the Brickner Woolen Mills Company, of Sheboygan Falls, was born January 21, 1834, in the village of Anspach, Bavaria, Germany, which is situated near Wurzburg, on the Main, and is a son of Michael and Margaret (Reddelbach) Brickner. His father was born in Anspach, September 20, 1799, and became a thrifty man of affairs, being in comfortable circumstances. After one year in school in his native country, our subject accompanied his parents to America in May, 1840. On reaching the New World, the family settled in Seneca County, Ohio, where the father purchased a farm and engaged in agricultural pursuits. His death occurred at his home in Tiffin, Ohio, June 16, 1883. His good wife, who was born in Rothen, Bavaria, December 8, 1804, died in Tiffin, April 23, 1864. They were consistent members of the Catholic Church, and were much respected.
George H. Brickner pursued his studies in the public schools of his new home, and was employed on his father's farm, where he was taught lessons of morality, industry and economy. In 1850, when sixteen years of age, he began clerking in a general store at Tiffin, Ohio, at the munificent salary of $5 a month. True to the principles of frugality inculcated by home teaching, he lived within that modest income. He devoted himself with assiduity and fidelity to his duties, and soon won promotion and an increase of pay, until in the course of time he received a larger salary than was paid any other clerk in the city, and had several offers of good situations. Early in 1855, Mr. Brickner embarked in merchandising at Tiffin, Ohio, with a partner, but, becoming satisfied that the connection would never prove either pleasant or profitable, he sold his interest to his partner. Having decided to come West and engage in business, he soon got together the fruits of his labor, and before leaving home received a present of $200 from his father, who remarked, "If you make good use of this, I will give you more." Some time later, having been convinced that his son had made good use of the money, he asked him how much more he wanted, and was told, "Not any." From that time forward, George H. made his way successfully and unaided, building up extensive business interests and accumulating valuable property. He received nothing more from his father until the estate was settled a few years since.
In August of 1855, Mr. Brickner removed to the village of Cascade, Sheboygan County, Wis., and there opened a general store. Later, he also owned and operated an ashery, a flouring-mill and a farm, in all of which enterprises he was successful. He continued in business at that place until 1868, when he bought Mr. Prentiss' half-interest in the Sheboygan Falls Woolen Mills, and formed a partnership with B. F. Heald, under the firm name of Brickner & Heald. That connection was continued for four years, when Mr. Brickner bought Mr. Heald's interest, thus becoming sole owner of the property. Having greatly extended the plant, and having purchased the Riverside Mills, he conducted the business alone from that time until 1887, when he converted the business into a corporation. The Brickner Woolen Mills Company was incorporated in May, 1887, with a capital stock of $100,000. George H. Brickner was chosen President, and his son, William Clay, Treasurer. The plant is situated on the west bank of the Sheboygan River, and adjacent to the railroad bridge on the south side. The factory is a fine four-story brick building, two hundred feet long by fifty in width, and is known to the trade as a six-set mill, operated by water-power owned by the company. Eighty hands are employed, and an average of two hundred and fifty thousand pounds of wool are used annually. The manufacture of shawls constitutes the principal products of the mill, although dress goods and cassimeres are manufactured to quite an extent. The capital stock, with the exception of a very small per cent., is held by Mr. Brickner and his family. In 1889, Mr. Brickner engaged in the manufacture of glass at Tiffin, Ohio, in company with Mr. Schieck. This company has an extensive plant, and is the only one in this country that manufactures colored blown Venetian window glass. Its pay-roll amounts to $6,000 a month.
On the 9th of September, 1858, Mr. Brickner was united in marriage at the Church of the Holy Name, in Sheboygan, to Miss Anna Elizabeth Ogle. Mrs. Brickner was born in Maryland, and is a daughter of William and Mary Ogle. She is a descendant of the noted Ogle family of Maryland, which has furnished five Governors for that commonwealth. Samuel Ogle, who came from England in the interests of Lord Baltimore, was provincial Governor in 1732, and his son Benjamin was elected to succeed him in 1798. In later years, three brothers were chosen to the same honorable position.
Four children were born to Mr. and Mrs. Brickner, of whom three are living. Georgiana, the eldest, is the wife of T. C. Hawkins, of Tiffin, Ohio, who is manager of the Brickner & Schieck Glass Company, of that city; Mary Margaret was the wife of Edward Chase, and her death occurred February 24, 1893; William Clay is Superintendent and manager of the Brickner Woolen Mills Company, of Sheboygan Falls; and Lillah Isabella, the youngest of the family, resides with her parents.
In politics, Mr. Brickner is a Democrat. During the war he was elected Treasurer of the town of Lyndon, and later was President of the Village Board of Sheboygan Falls. In 1888 he was elected Representative to Congress from the Fifth Wisconsin District; was re-elected in 1890, and again in 1892, being the present incumbent, and serving his third term. In the last Congress he was Chairman of the Committee on Expenditures in the Treasury Department, and a member of the Committee on Inter-State and Foreign Commerce. He is Chairman of the sub-committee of the last-named committee, called the "Committee in Light-House and Life-Saving Service."
Mr. Brickner and wife are members of the Catholic Church. The record of the lives of successful men who have sprung from humble origin, and by their own efforts, unaided, have won prominence, must serve to encourage the young and ambitious to strive on, hopeful of success. As shown in this brief sketch, our subject is essentially a self-made man. The possessor of good principles, a manly independence, good natural ability and indomitable energy, he applied himself with zeal and perseverance to whatever he undertook, and success has crowned his efforts in a marked degree. His course as a business man has been distinguished by a conservative spirit of enterprise, strict integrity, and the application of correct business principles. In his official career in Congress, he has proved an active and useful member, showing an earnest desire for sound and healthful legislation, rather than the promotion of partisan policy. Among the substantial benefits he as secured for the people of Sheboygan County, are two large appropriations--one for the erection of a fine postoffice and custom house at Sheboygan, and the other for the extension of the harbor at the same place.