<!No material may be reproduced without permission of Carey Federer and the original owner!>
From the Portrait and Biographical Record of Sheboygan County, Wis., 1898:
Amherst P. Humphrey, Page 245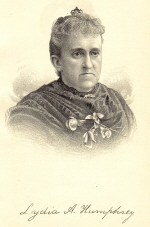 Click on picture to enlarge
AMHERST P. HUMPHREY, who is one of the leading and representative farmers of Lima Township, where he owns a farm on section 3, is a veteran of the late war, and needs no introduction to the people of Sheboygan County. He was born in Niagara County, N. Y., November 24, 1838, being a son of Hiram and Martha (Price) Humphrey. Their family comprised four sons and three daughters: Roxey, now deceased; our subject, who is next in order of birth; Roxey, wife of M. W. Jackson, a farmer living near Mayfield, Mich.; H. Clay, a manufacturer of screen doors and windows in Antigo, Wis.; and Frank W., a banker of Shawano, Wis.
The father of this family, who was a native of Livingston County, N. Y., was born February 6, 1804, and died October 10, 1863. He was reared to manhood on a farm and received a common-school education. In 1845, with his wife and four children, he started in a covered wagon for Wisconsin, to visit friends of his wife. They went across the Niagara River and took a boat at Port Sarnia. The vessel would not land at Sheboygan, but went on to Milwaukee, from which city they were obliged to travel by wagon. Mr. Humphrey bought a tract of four hundred acres of unimproved land in Lima township, then known as the "Dye Settlement." In 1849 he bestowed the name of Lima upon it, in honor of his old home in New York. The family at first lived in a log cabin. In later years the father sold his original farm and purchased one of one hundred and sixty acres, where he resided until his death. There were few settlers, but many Indians, in the neighborhood when they first came here. The latter would often come begging for salt. Deer and wolves were plentiful. There were no churches near, services being held in the pioneer homes, while the nearest schoolhouse was in Sheboygan Falls. They truly saw the wonderful transformation of the county. Mr. Humphrey had several teams of oxen, but only one span of horses. He ran a sawmill on Mullet River, just north of our subject's present home. This mill was built about 1848. Always foremost in whatever would advance the interests of the country, Mr. Humphrey was active in erecting the first schoolhouse, and his views as a citizen and in favor of temperance were known far and wide. His wife is still living with our subject, at the advanced age of eighty-two years, having been born June 29, 1811. She has been a life-long member of the Methodist Church. Her husband also belonged to that church, and he gave a good part of the lumber that went into the first Methodist Church erected at the Falls. Before any schoolhouse was erected school was held in a part of their cabin.
Amherst P. Humphrey was a lad of six years when he came to this State with his parents, and from boyhood he has been accustomed to farm life. His education, received in the common schools, was supplemented by a course in the High School of Sheboygan. When his country was in peril he responded nobly to her call, enlisting in Company H, First Wisconsin Volunteers, at Sheboygan Falls, October 8, 1861, under Capt. Requay, and Col. J. C. Starkweather. They rendezvoused at Camp Scott, Milwaukee, where they were sworn into the service/ The regiment was assigned to the Army of the Cumberland, and at once ordered to Jeffersonville, Ind. Briefly, our subject participated in many of the severest engagements and battles of the war. He was in that of Stone River, Chickamauga and Buzzard's Roost. At Chickamauga he was taken prisoner, but made his escape, and at the skirmish at Dallas received a gunshot would in the neck, which disabled him from May 30 until October 17, 1864, when he received his discharge in Milwaukee. During his term of enlistment he was never under arrest. The old Wisconsin First Regiment was subjected to hard service and much marching. Many of the poor boys died from sickness and from wounds received in battle. The following is Mr. Humphrey's own account of his experience at Chickamauga:
"On Sunday, the second day of the memorable battle of Chickamauga, at about 5 P. M., the Union army retreated. From this time until midnight I had to run several times for dear life to keep out of the hands of the rebels and their murderous prison pens.
"Not hearing the order to retreat, a few of our regiment remained in our old position until the rebels came climbing over our scanty breastworks, when I jumped and ran for the rear, the "rebs" sending their bullets after me. I had only gone a few rods when I found a Union line of battle. I stopped and fired a few shots, when we all had to break and run again for the rear.
"In my search for the route of the Union army, I fell in with the rebels, who were so numerous that I had to throw my musket away and give up as a prisoner. I was between the rebel rear rank and file closers a few minutes, where were some twelve or fifteen other Union soldiers. When I thought my best opportunity had come, I made good my escape by running for the woods a few rods away, the rebels yelling "Halt!," and firing volleys of bullets after me, after entering the woods. I went but a few rods, when I ran into a squad of the enemy, all yelling "Halt!," but at that instant I turned about and took to my feet again. At the first motion I made, the bullets flew thick and fast, some of them grazing my clothes and striking the ground very near my feet. The first bound I made I snatched a musket that lay on the ground, and the next leap I grabbed the cartridge-box, and, changing it for the old one (having larger bullets than my new gun), I loaded my new musket on the bound through the woods for twenty to thirty rods, the "rebs" still yelling "Halt!" and firing.
"Finally, I made good my escape and reached the Union army about midnight, very happy to know that I was yet alive and clear of the rebel prisons."
Mr. Humphrey married Miss Lydia A. Norton, August 28, 1866. She was born in Martha's Vineyard, Mass., January 19, 1845, and is a daughter of Charles L. and Anner D. (Luce) Norton. Four sons and four daughters have been born of this union and all but one are living. Willis Everett died at the age of four years. Edith has been educated in the High School of Sheboygan Falls. Ella G., also a graduate of the same school, is a teacher of this county. Charles H. resides at home, as do also the four younger members of the family: Sadie R., Willie A., Frank N. and Lottie M. Mrs. Humphrey came to this State with her parents in 1859. The father had been for many years Captain of a whaling-vessel, and in his sailings had made a tour of the world and had been on the high seas for twenty years, oftentimes being gone for four years at a time. Both parents were natives of Martha's Vineyard. The mother died when her daughter was a child of eighteen months, and the father passed away in October, 1875.
In politics, Mr. Humphrey has been a life-long Republican, and first used his right of franchise for Abraham Lincoln. He is a man who stands by his principles and has never desired official honors. Socially, he is a member of Richardson Post No. 12, G. A. R., of which he has been Adjutant and Commander. He is a strong friend to the public schools, which are the bulwarks of our nation. His wife is a member of the Baptist Church and a lady of pleasing address and good education. She had been of invaluable aid to her husband in the journey of life.
Mr. Humphrey now operates on hundred and eighty acres of arable land in Lima Township, within four miles of Sheboygan Falls. He is considered one of the practical and representative farmers of the district, and has made substantial improvements upon his farm. The beautiful home occupied by the family was erected in 1888, on the site of their former residence, which was turned a week before Christmas, 1885. Mr. Humphrey has been interested in the manufacture of cheese for fifteen years, and is now the proprietor of a factory on section 17. This business has been marked by success. The products of the factory are nearly all disposed of in the county. Our subject has been, both in times of peace and war, a true citizen, and for the gallant conduct he displayed on the field of Chickamauga was promoted to the rank of Corporal. He has been ever deserving of the honor bestowed upon him and the high esteem in which he is held by all.