<!No material may be reproduced without permission of Carey Federer and the original owner!>
From the Portrait and Biographical Record of Sheboygan County, Wis., 1898:
Christopher Oeder, Page 319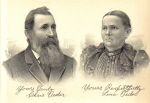 Click on picture to enlarge
CHRISTOPHER OEDER. It was on the 10th of July, 1847, that Mr. Oeder set foot on the soil of Wisconsin for the first time. he is a man well and favorably known, having spent forty-six years in this State, twenty years of which time he was a resident of Fond du Lac County. He is one of the worthy pioneers, and is now a resident of section 7, Lima Township, Sheboygan County.
The birth of our subject occurred in Baden, Germany, September 17, 1835. His father was twice married. The first wife was Miss Waggershauser, their marriage occurring in 1814. She bore him one son, John, who resides in Germany. After the first Mrs. Oeder's death, he married Miss Elizabeth Leffel, by whom he had eight children, seven sons and one daughter. Christian lives in Scott Township on the old homestead; Henry resides in South Dakota, where he is engaged in farming; Conrad L., a wagon-maker by trade, is now operating a farm near Kewaskum, Washington County, Wis.; Fred lives in Des Moines, Iowa, and is a successful druggist; Charles resides in Minneapolis; John, deceased, was formerly a resident of Germany; Caroline, now deceased, was the wife of H. H. Kappelman, a farmer of Lima Township; and William has also passed away. Henry, Fred and Charles were all in the service during the late war.
The father of our subject was born September 25, 1789, in Germany, and died April 7, 1877. Until coming to America he was a manufacturer of soap and candles. He was a well-educated man, and could speak the French and German languages fluently. Serving under Emperor Napoleon, he was with him during the great Russian campaign, when the city of Moscow was burned, and was present at the battle of Austerlitz. For three years he was a soldier in the German and French army, when France had control of Western Germany, Italy and Switzerland. He often saw "the little Corporal," and on the famous retreat from Moscow ate peas from the same kettle. he was a man of much prominence, and was an official of high standing in his country. He received a medal from the officers of his regiment for his bravery and fidelity to the cause.
On the 17th of March, 1847, the father set sail with his family from Antwerp, Belgium, in the two-mast sailing-vessel "Jupiter." The voyage was of thirty-five days' duration, and during it they encountered heavy seas, and the crew lost control of the vessel. Landing in New York, they immediately set out for the West, making most of the journey by water, and arrived in Milwaukee July 11, 1847. In August the father took up a claim of a quarter-section of land in Scott Township, which was in a wild condition. Their first home was a poor little shed, covered with branches of trees. Here the family lived for four weeks, until a log cabin could be erected, the floor of which was only mother earth, but in the fall the boys split logs and made a floor of puncheons. There was an Indian village of perhaps seventy-five wigwams only a mile and a-half from the pioneer cabin.
Among the recollections of our subject is one of seeing the Indians cut a notch in a log with their hatchets and pour their porridge into this rude trough, eating therefrom with wooden spoons. There were remnants of the tribes of the Winnebago, Duck Creek and Chippewa Indians in the locality. In the fall of 1852, while Mr. Oeder was proceeding homeward on a visit from where he had been working, in Fond du Lac County, it began to grow dark, and when he came to the village of Waucousta there was no place for him to stop overnight. Therefore, he proceeded along the eastern branch of the Milwaukee River until he was startled by the baying of Indian dogs across the stream. He was almost ready to beat his retreat, when an old Indian came down to the river opposite, and in a moment plunged into the stream, bringing with him a birch-bark canoe, into which he made signs for our subject to get. he therefore did so, and was rowed across the river and taken to a wigwam filled with savage-looking Indians, who, nevertheless, treated him kindly and guided him through the thickets to his home. The next morning two squaws came to the cabin and demanded pay for bringing the "pappoose boy" home. They were rewarded by a present of fifty pounds of Indian meal. Many incidents of the early days are fresh in his mind. The city of Sheboygan was only a hamlet of four or five houses when he first saw it. The father continued a resident of this county until his death. He was a Republican, politically, and was a member of the Evangelical Church.
Christopher Oeder was a hard worker and a wage-earner from his thirteenth year upward. he followed the carpenter and joiner's trade for many years, and has also been a farmer much of the time. After his marriage he located in Auburn Township, Fond du Lac County, where he purchased eighty acres of uncultivated land. He erected a log cabin, cleared a piece of land, and planted corn and potatoes the first year. For twenty years he was an industrious citizen of that locality. In 1867 he came to Lima Township and purchased eighty acres of improved land, for which he paid $3,400. It is a farm, within five and a-half miles of Sheboygan Falls, and six miles from Plymouth. He has a beautiful home, and has made radical improvements on his place, which is now one of the most valuable homesteads of the township.
Our subject was united in marriage April 22, 1860, to Miss Lena Etta, a native of Baden, Germany, born August 31, 1840. Her parents were Henry J. and Catharine (Messenger) Etta, who are both deceased. She set sail with her parents from Amsterdam, Holland, October 7, 1848, and after a voyage of forty-five days arrived in New York City. They proceeded Westward to Fond du Lac County, where the father in the following spring purchased eighty acres of timber-land. He made a clearing and erected a log cabin in the wilderness, and was among the earliest settlers of the county. Mrs. Oeder was only six years old when she came to this county, and has been a witness of the marvelous strides of civilization in this locality. Indians frequently came to her door in former years to barter baskets for food. A squaw with her pappoose strapped to a board once made her a call, and when she came into the house she rested the pappoose against a large pumpkin. many times Mrs. Oeder hunted her father's cows in the depths of the forest as much as three miles from her home.
Our subject and wife have had a family of two children. Ida M. is the wife of J. O. Parrish, a successful farmer of Lima Township. They have four children, Grace E., Robert J., Edna R. and Rexford O., aged respectively nine, seven, five and one and a-half years. Charles F., who resides in Ransom County, N. Dak., married Miss Allie Littlefield, who is a daughter of a well-known pioneer of this county, Timothy Littlefield, whose sketch may be found elsewhere in this volume.
Since he has been a resident of Lima Township, Mr. Oeder has been Chairman of the Township Board for one year, was School Director and Treasurer for four years, and served two years as District Clerk. While living in Fond du Lac County he was Assessor for six years; for a like period of time was Chairman of the Township Board, and was School District Clerk for sixteen years. His first Presidential vote was cast for Abraham Lincoln, and he supports honorable and trustworthy men, rather than party machines. Coming to this State with a capital of only $200, he has been abundantly prospered, and is now thought to be the richest man in his vicinity.